DeepVision financed over 100 million yuan for innovative algorithm architecture to provide efficient and intelligent visual inspection solutions for multiple fields
published:2022-03-22
Views:238
Source:深度视觉新闻部
Product testing must be both fast and accurate

36Kr is informed that Hangzhou DeepVision Technology Co., Ltd. (hereinafter referred to as "DeepVision") has announced its Series A Financing of over 100 million yuan. Led by Genertec, this round investment has been followed by Hui Capital, Beijing Zhongguancun Development Qihang Innovation Investment Fund (L.P.) and Qualcomm Ventures. Scheme Capital acts as the exclusive financial advisor. Genertec, the leading investor, is a wholly-owned company of China General Technology (Group) Holding Co., Ltd., which focuses on equity investment in the field of technological innovation; With its clear industrial attributes and layout capabilities, Genertec has fostered a batch of listed companies and niche market leaders. WANG Shuailin, founder of DeepVision, expresses that this round of financing will be applied to product development, market expansion and other business aspects.

Founded in 2017, DeepVision is a supplier of high-precision intelligent vision inspection solutions for industrial fields. DeepVision has independent R&D ability of intelligent AI cameras & 3D cameras, optical design ability, R&D ability of multiple algorithms library, R&D ability of FPGA platform image acquisition and processing systems, design and manufacturing ability of automation equipments, and its integrated inspection equipments have been used in many industrial segments.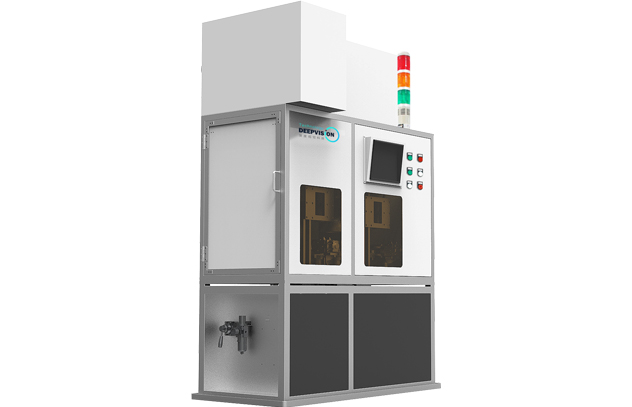 Implementing automatic product inspection by taking advantage of machine vision is a necessary for intelligent production of enterprises, and it is also a rapidly growing market. According to relevant data from the Foresight Industry Research Institute, the market size of China's industrial machine vision reached 13.9 billion yuan in 2019, and the dominant trend of domestic brands continued to rise in light sources, lenses, cameras and analysis software.

WANG Shuailin says that China is an industrial power with its manufacturing level improving continuously, which enables many application scenarios for visual inspection equipments; Meanwhile, domestic manufacturers can make better equipments than foreign products through rapid iterations, and solve the industrial pains, which is a favorable market opportunity for domestic brands.

Currently, the product testing link in the industrial field is mainly faced with the following pains: rising labor costs and recruitment difficulties; increasing product complexity with lower efficiency of human eyes or conventional detection methods; high-value products with potential major consequences caused by missing in inspection, etc.

DeepVision has developed several integrated automatic inspection equipments for inspecting products with high reflection and high curvature. These equipments are mainly used in machining and auto fields for inspecting bearings, needle rollers, ferrules and other auto parts.

WANG Shuailin told 36Kr, "Since machined parts and auto parts are not produced in a dust-free environment, dust, dirt or sludge often tends to stay on the parts, which are yet in conformance with processing quality standards. Therefore, higher requirements have been put forward on inspection equipments. In addition, mechanical parts are usually mass-produced, and the production efficiency will also be restricted by the detection accuracy."

WANG Shuailin was graduated from Beijing University of Posts and Telecommunications and has worked as an algorithm engineer in SEED, China North Industries Group Corporation Limited and other companies, which helps him to accumulate rich experience in the development of FPGA and ISP algorithms.

In terms of technology, DeepVision implements the product layout of image acquisition, data analysis and equipment integration. As for image acquisition, DeepVision designs the special light source and light path, as well as the optical lens system, to solve the problem of overexposure caused by high reflection on metal parts surface; In addition, the image shooting requirements for special positions of machined parts and auto parts are met through the combination of bright and dark fields.

As for data analysis, DeepVision adopts the distributed computing, which is different from the centralized computing of traditional visual inspection equipment relying on IPC. In this way, the computing power of the whole equipment can be better distributed, and the target can be detected for multiple times under different lighting conditions, so as to improve the detection accuracy.

Thanks to the distributed computing architecture of DeepVision, the camera is capable of edge computing. One image of a part is first processed by the camera, and the processed result is then embedded into the image in the form of data and transmitted to the backend IPC; Based on the processing results of the camera, the IPC adopts deep learning algorithm to further analyze the image.

WANG Shuailin said that in addition to the innovation in algorithm and detection logic, it is also very important to understand the machining process. DeepVision must fully understand the process characteristics, and differentiate the defects from the normal processing traces, so as to perform the data calibration and create the algorithm library. This know-how capability is also a barrier of enterprises.

According to relevant data, DeepVision has created multiple products, including Roller Intelligent Appearance Inspection Machine, Inner and Outer Ground Ring Inspection Machine, Inner and Outer Turned Ring Inspection Machine, Finished Bearing Appearance Inspection Machine, Battery Shell Appearance Inspection Machine, etc. Each product type has several models. At present, DeepVision has over 300 clients, including Schaeffler Group, NACHI, C&U GROUP, ZHEJIANG XCC GROUP CO., LTD. and other domestic and overseas well-known enterprises.

WANG Shuailin said that the annual product shipment of DeepVision is nearly 1,000 units, and these products are all sold through direct channels, which allows DeepVision to better understand clients' needs and quickly iterate products. Besides, DeepVision is also building its own production base now.

In terms of development strategy, besides the market of machined parts and auto parts, DeepVision is actively expanding to the textile, medicine and other fields, and constantly develops industry benchmark clients, so as to give full play to the efficiency of inspection equipments and technology.

Investors express:
"DeepVision is a technology-driven company that has the ability to develop a full set of underlying technologies, including cameras, light fields, algorithms, mechanical automation, etc. Its AOI products and solutions have been highly recognized by global leading clients in the field of bearings and metal parts, and have been gradually applied to the field of new energy. China is in the critical period of industrial upgrading. We believe that DeepVision, under the leadership of Mr. Wang, will become China's KEYENCE and contribute to the transformation and upgrading of China's manufacturing industry."
- YANG Yang, Investment Director of Hui Capital


"Qualcomm has been the leader in development of AI technology and industry through R&D, investment, cooperation, etc.. Qualcomm Ventures, as the earliest institutional investor of DeepVision, has accompanied DeepVision over three years. In the past three years, we have witnessed the growth of DeepVision team, the expansion of DeepVision products from bearing testing to surrounding industries, and the great potential of AI in high-precision intelligent manufacturing. We sincerely wish that DeepVision can continue to innovate in AI technology, and explore and make progress in application scenarios."
- MAO Song, Venture Capital Senior Director of Qualcomm Ventures
"Over the past year, we have gladly witnessed the constant evolution of the team and the continuous growth of the company. While continuing to consolidate the advantages of metal surface defect detection, it has also made good achievements in new energy, medicine, etc. We hope that the company will seize the opportunity of the wave of industrial digital intelligence, go ahead steadily and surely, and become bigger and stronger."
- MA Jianping, Partner of Beijing Zhongguancun Development Qihang Innovation Investment Fund (L.P.)


"The continued outbreak of COVID-19 has elevated the importance of improving production efficiency and ensuring product quality by mechanization, automation and intelligence to a higher level. The self-developed cameras, self-developed algorithms and overall solutions of DeepVision have been recognized by clients in the industry of bearings and other metal products. We also believe that the team will explore a wider market space by itself."
- XIA Zhijin, Executive Partner of Old Shareholder Vertex Ventures